Heels are fashionable shoes that can be worn to most places, but is the high school one of them? Most girl school female students are always on the edge of whether to wear heels or not, hence the question, can you wear heels to high school?
Yes, you can wear heels to high school as long as it is permitted and okay by the school. Most schools do have a dress code that states what you can wear or not. If heels aren't among the state code, you shouldn't wear them. Doing so is disobedient, and you may get penalised for it.
Girls in high school are usually 14 to 18 years of age. In this regard, the American Podiatric Medical Association stated that it is okay for adolescents — and adults to wear heels once in a while. It further stated that you should consider wedge heels or platforms instead of stilettos.
If you wear heels to high school, you should consider how long you can wear heels without your legs getting painful or hurtful.
is it weird to wear heels to school?
No, it's not weird to wear heels to school. However, not all kinds of heels are permissible in high schools. You are permitted to wear heels to high school however,  it all depends on the rules and the code of conduct, and the dressing pattern of the particular school.
And just because a school permits heels, this doesn't also mean you should go out all looking for exclusive stilettos or pumps.
You should still remember that it is a school you are going to, and the primary aim of everybody going to school is to acquire knowledge. So the heels have to be comfortable and less distracting to achieve this purpose. So let's look at the types of heels you can wear and not wear to high school.
Can you wear heels to high school?
Yes you can wear heels to high school, lets take a Look at some of the heels you can wear to high school.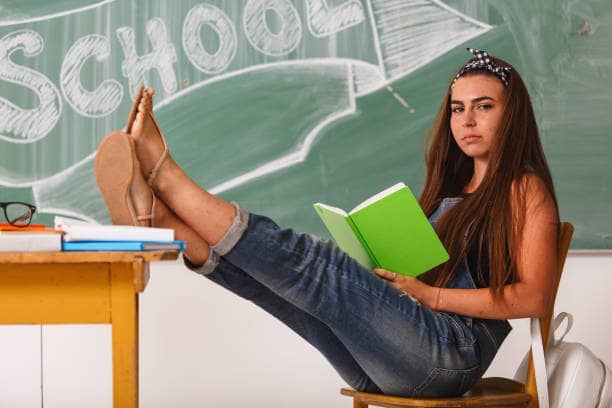 I have listed six types of shoes you can wear to high school. These shoes are designed to give you the comfort and ease you need to prevent you from being mentally distracted from school activities. They are:
Kitten heels
Low wedges
Espadrille
Pompadour
Prims
Cones
1. Kitten Heels
Kitten heels are designed for teenage girls who are yet not fit to wear high heels. This is one of the best heels you can wear to high school. You can easily walk comfortably in it because it isn't very high. For high school, I recommend you wear black kitten heels; they aren't only classic, they fit practically with every type of outing. Also, most high schools prohibit bright-coloured shoes because of the distraction that they can cause.
2. Low Wedge
Low wedges are fashionable shoes that are well balanced compared to other heel types like pumps. The wedge gives you greater comfort because it helps to balance your weight evenly on the shoe. The shape is solely designed to walk around with it without your feet getting painful quickly.
3. Espadrille
Espadrille heels are perfect summer heels, and all ages of women can wear them because they are easy to walk in. Most girls in high school cannot walk in heels because they don't have experience, so Espadrille allows you to taste what walking in heels feels more safely. It is OK to wear and comes in a variety of colours. However, since it is school, you are advised to stay on neutral colours.
4. Pompadour
I know many will say that pompadours are old-fashioned heels. Yes, they are, but they look pretty well on young girls. This type of heels keeps you from walking off balance, especially if you are trying on heels for the first time. However, pompadour heels are sometimes difficult to find, but you can still get them at the designer's shop. Many Pompadour heels come with buckles and bows, making them adorable for high school girls.
5. Prisms
This heel type got its name due to the nature of the heel – the heel had a prism on it, and it has three sides and is usually chunky and short. Prism heels are perfect for high school girls because they are modest and classy. Also, they are comfortable and fashionable, and you can easily walk with them.
6. Cones
Cone heels are comfortable and versatile, and you can easily walk in them, which is a vital necessity for young girls. Additionally, they are simple and classy and ensure you keep neutral colours while attending school.
Types of heels that you can't wear to high school are:
Pumps
Stilettos 
slingbacks 
Pumps
Pumps are high heels that are slightly comfortable to wear. It is slightly difficult to walk in these. They can cause sores in your feet, affecting your concentration in the classroom.
Stilettos
Stilettos are very high heels that are mostly worn to parties and events. They aren't suitable for school and work. Even though they look attractive, for no reason should you wear stiletto heels to high school? You can't even walk in these for long as a teenage girl.
Slingbacks
Slingback heels are not appropriate for school, especially the open-toe ones. You can only wear slingbacks during prom nights.
Why Should You Wear Heels to High Schools?
Heels give you a more feminine look
Heels are fashionable
Heels make you taller
Flexing your leg muscles
Better body physique
Heels are greatly beneficial; beyond adding to your physical appearance, they offer mental benefits that can make teenage girls learn faster in school. As long your school permits heels, you can give it a try. Below are some of the best reasons why you should wear heels to high school.
Heels give you a more feminine look
Compared to flats or sandals, you tend to look more feminine. Wearing a heel makes you move your heels, giving you a better body representation. This is not to attract the young boys in school but to make the girl look comfortable and confident about herself.
During this period, most high school girls are faced with identity crises, which affect their mental health, but with the confidence, they get from wearing heels, they tend to have no struggle with their body and identity as female.
Heels are fashionable
Most high school ladies want to appear at their best and make their dress code spicier. One of the ways to get this done is by wearing a pair of heels with your dress code.
Heels are more fashionable than flats. You tend to look more beautiful and smart in them than in flats.
Heels make you taller
Most short ladies in high school are always bored about their height, and some even get depressed about it. However, you can easily complement your height with heels, and no one will know your exact height. Instead of being bullied for being short, you can always wear a pair of heels to appear taller. This helps your self-esteem at school, allowing you to learn better and be happy.
Flexing your leg muscles
Heels are beneficial to your leg muscles. They help you to get more muscle in your calves, as well as less fat in the calves. However, this depends on the height of the heels you are wearing. Nevertheless, after a period of wearing heels, you will notice that your calves become tightened to carry the pressure of your legs. Also, this adds to the beauty of your legs and your physique.
Better body physique
Interestingly, heels do impact your entire body physique, including posture. While wearing a pair of heels, your whole body is configured to a change which entails your chest being pushed out while the buttocks stick out and your back arch a little, giving you a slimmer appearance and better body physique. A high school student with a better body physique has better mental health, which is essential for better learning.
How to Style Your Heels in High School?
Below are various ways to style heels in high schools. They are:
Heels with tulle skirts and tees
A black tulle skirt with a floral or neutral-coloured tee goes best with black heels. This outfit is decent, simple and classy.
Heels with midi skirts and t-shirts
Midi skirts are a nice set of skirts that goes with t-shirts. All you have to do is to get matching colours and complement them with heels. You can carry a backpack along for keeping your books and school materials.
Heels with a balloon dress
Balloon dresses are interactive and fascinating kind of dress that radiates irresistible beauty and comes in different forms and colours. A knee-length balloon dress goes perfectly with heels.
Heels with jeans and a shirt
Jean and a shirt are great for appearing in class on Thursdays since they give a semi-casual vibe. Styling it with heels makes you look more competent in your pair of jeans.
Heels with a trench coat and body con dress
During the fall, when the air is a bit cooler, styling a trench coat and a body con dress is one way to appear smart to school. You can complement it with a pair of heels to amplify the beauty of the outfit.
Conclusion
From the above discussion, you know that you can wear heels to high school only if your school permits it. It is important to apply caution while wearing heels to school. Do your best to avoid uneven floors. They may cause you to have ankle injuries. Avoid running. It is not advised to do so. Lastly, if you notice that the heel is giving you blisters or injuries on your legs, do discontinue it immediately.