Are you a new college student who loves the idea of wearing heels to college but is confused about whether it is okay to wear them in college?
Yes, It is absolutely okay to wear heels in college as long as you are comfortable in them. 
Compared to high school, the college has a bigger campus and a lot of resource rooms. So it demands more trekking.
You have to trek around the big campus to your classroom, go to the practice room, and keep going from one class to another until you are done for the day.
This can be really hurtful, especially if you are with heels. This is why as a college student.
You have to understand the simple hack of wearing heels comfortably. 
No matter how good you are with heels, without these simple hacks, you may be hurting your legs.
Heels aren't very comfortable like sneakers, wedges, sandals or booties. 
Is it OK to Wear Heels in College?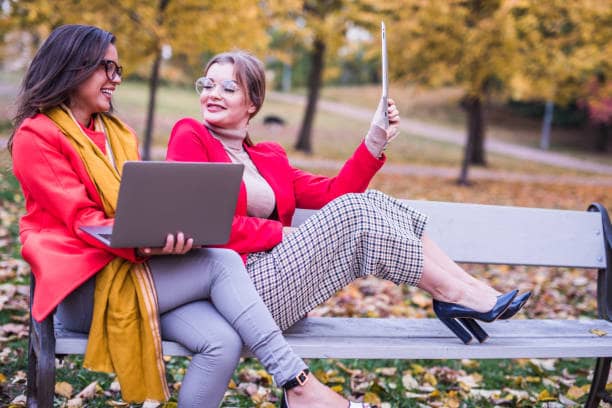 Stay away from heels above 3 inches
As a college student, it is advised that you don't avoid heels above 3 inches.
One hidden concept about heels you probably don't know is that there is something called a platform which helps to soothe and cause the relief to your feet while on heels.
The higher the heels, the higher the platform required to be comfortable. Heels without platforms are not comfortable. 
Heels below three inches, at most three inches, won't stress you much while walking around the campus.
You can try to get booties with chunky heels, strap shoes with thick heels or kitten heels. 
Go for your perfect size
Do not go for heels that aren't your size. If the statement heels you have from high school can't fit you properly, I advise purchasing a new pair instead of sticking around to manage it.
The heels tend to be more uncomfortable and hurt if they aren't your perfect size. 
Go through the shortcuts paths on the campus
If you are in heels, do your best to avoid long routes. Go for the shortcut paths. If a friend gives you an offer to drive around the campus, do accept the offer.
The goal is to avoid any opportunity that will make you walk more. Also, while walking, avoid slippery, uneven surfaces.
Also, avoid walking on the grass or in the mud. Walk on the straight clear paths. The basis here is that you should be extra cautious of the surfaces. 
Purchase good quality feet cushions
Have you ever worn heels to school, and after you are back and took off the heels, only to find that the back of your foot is red, sole and sometimes bleeding?
If you have experienced this, it is time to invest in feet cushions. Go for the gel-like cushions you can stick on the insides of your heels.
The good part about feet cushions is that they are affordable, and you can easily remove them after using them. So you can use one for a couple of heels. 
Utilize any opportunity to sit down
One of the preventive measures not to have strained feet because of prolonged wearing of heels is taking advantage of any opportunity you get to sit down.
If you are waiting for a professor, you can easily pull a chair and sit down. When you sit, your knees and feet are relieved, and the pressure is released immediately.
It is difficult to get empty seats around the campus, so always utilise the one you see. 
Walk gently and carefully
One of the most effective hacks to maintain comfortability while walking is to walk gently and carefully.
If you are a lady with large steps, you will have to learn to walk more slowly.
When you walk more gently, your legs don't get hurt that much, and it gives your leg muscles the strength to sustain the pressure from the heels. 
What are the Types of Heels You Can Wear to College?
As a college student, you need something more fashionable and classic.
As a college student, you are no longer a teen, you are a lady, and you need to wear something nice to complement your feminine beauty. 
Below are the types of heels you can wear to college. 
1. Ankle Strap Heel
As a fashionable college student, owning a pair of ankle strap heels, preferably black or nude, is a must.
Pair of black or nude ankle strap heels are a must. Ankle strap heels give you that sleep elegance that flats and sneakers do not give you.
The best part here is that they provide more structure and support and ensure more comfortable than an average stiletto.
You can wear thinner straps to achieve a more feminine and dainty look. 
2. Heeled Booties
Faux snakeskin heeled booties are simply out of this world, and styling up a pair with some lovely outfits can turn the attention off the whole campus to you.
You can pair it with a cropped sweater, ripped jeans, a mini skirt, and a turtle neck top with some nice makeup. 
3. Platform Heels
Platform heels are one of the best choices of college heels, especially during the warmer months.
At the college, you can wear it to attend weekend brunches or Greek life parties.
They offer you the same elegance and smooth cuteness you get while wearing a stiletto, and they are far more comfortable than a stiletto or pump by giving your feet a better structure. 
4. Sandal Heels
Wearing sandal heels compliments your outfit more than a normal sandal.
Try out black or white sandals heels to get a sleek aura which will make your outfit look more stunning. 
5. Block Heels
This is one of the most comfortable heels you can wear to college.
Apart from being comfortable, they are simply amazing in complementing your feet and making you appear more feminine. In terms of comfort and beauty, It is a win-win! 
Why Should You Wear Heels to College?

 
 

It is fashionable 
As a college student, heels help to complement your outfit. It gives you a sleek appearance that makes you attractive and adorable. 
 

It complements your height 
The U.S. academy conducted a study showing that taller people are happier than shorter people.
Heels help to make you taller, which boosts your self-confidence, which is essential for your happiness. 
Heels make you more feminine
Heels make your legs thinner, longer and your hips all projected out, which enables you to achieve an excellent feminine body appearance.
You can't wear heels and look masculine like when you are on sneakers, combat boots and flats. 
Heels make you appear classy and serious 
As a college lady, you need to appear elegant and serious; the best way to achieve that is by wearing heels.
Sneakers make you look casual and simple, but you tend to look more sophisticated with heels. 
Heels improve your posture 
If you have issues maintaining a good posture while you walk or stand, heels are one of the oldest and most effective hacks to apply.
when you wear heels, your back automatically gets straightened out, your chin comes up, and your chest pushed out a bit, giving you a good posture.
This helps to make your body shape look simply lovely. 
How to Style Heels in Colleges?
There are many ways you can wear heels and appear classy and beautiful. Some of the ways are: 
Heeled Booties with Mini Skirt and Sweater
This is one of the best ways to appear cool in the college during the summer. Ensure that the outfit colours compliment that of the shoe. 
Ankle Strappy Heel with Ugg Pants and Crop Top
A bossy outlook for a classic lady. A college is where you appear at your best, which is what a strappy ankle hell with ugg pants and a crop top helps you ensure. During warmer days, you can trench coat on it. 
Block Heels with a Mini Dress
This is a feminine way of looking chic and all elegant on a casual day at school. You can style the mini dress with a jacket to give it a unique look. 
Sandals heels with High Waist Jeans and a Crop Top
A pair of jeans go well with a crop top, and when styled with sandals heels, it can be simply stunning. 
Platform heels with Tullie Skirt and a Long Sleeve Blouse
This is for a more serious day at school.
If you have a presentation to make at school and you are expected to appear serious and classic, you can try out styling a Tullie skirt, a long sleeve blouse and a pair of platform heels. 
Conclusion 
It is okay to wear heels to college as far as you are comfortable in them.
Ensure to apply caution while walking with heels on in college because you have a higher chance of falling than when wearing a pair of sneakers.
Always go for heels that fit, and if you notice any discomfort, act on it quickly.