The Christian Louboutin red bottom heels have become the female footwear equivalent of a Rolex with prices ranging from $500 for espadrilles and $6,000 for super-platform pumps.
Christian Louboutin sells over a million pairs of shoes a year.  One will wonder what is so special about this shoe,
What is so special about  the Christian Louboutin red bottom heels? No two models of red bottom heels are the same.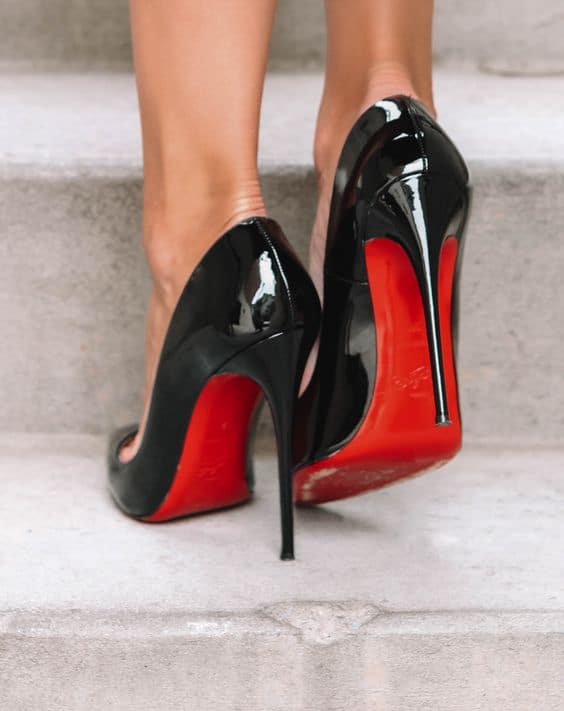 They are flirtatious, beautiful, classy, and adorable with the color of passion and love.
When you wear it with it, you don't have to make an announcement; the shoe speaks for itself.
The red bottom is an exclusive trademark and can't be seen in any other shoe; this gives you a sense of prestige and class.
There are so many other reasons that make the red bottom heel special, some of them include:
What is so special about the Christian Louboutin red bottom heels
1.    Attention to Details
Louboutin high heels are known for their high standard and quality of craftsmanship, which pays attention to detail when making the shoe.
Beyond the red bottom, what captures the hearts of women in the Louboutin shoe is its silhouette.
Christian Louboutin's red bottom heels are best known for making women more attractive and appealing by lengthening their legs, lifting the butt, and defining the calves.
It also shapes her walking steps, and you can't wear anyone while wearing a Louboutin silhouette. Your movement is gentle, slow, and sexy.
2. They have a Good Resell Value
Each model of the red bottom heel created season after season is uniquely extraordinary and fashionable.
The prices keep going up and up. So you can create a Pinterest of Louboutin heels, where you can resell your Louboutin shoe at good prices.
Because the prices never decrease, it simply adds value to your money when you want to resell it.
3.    They're Immediately Recognizable
Christian Louboutin heels don't need an introduction. They are not the types of shoes you guess to be.
When you see them, you know them. Their red bottoms, including their technical innovations and expensive materials, speak of it.
4.    They introduce you to a World of Glamour
The red soles offer a sense of glamour and pleasure to its wearer. It lets everybody know that you have excellent taste in your footwear and that you belong to a specific class.
5.    They're Collectibles
Over the years, Christian Louboutin has released different collections of red-bottom shoes worldwide.
These collections are themed, and the rarer the material, the more coveted the collections are.
In other words, you can say that they are highly valuable, and if you have a rare collection, you can sell them at auction to make good money.
6.    They are very High
Christian Louboutin heels are not for the faint-hearted. They are sky-high.
While compared to other designers, they have a perfectly consistent proportion that spells it out: they are shorter from toe to heel, higher in the arch, and tighter across the width of the foot.
Can Any Type of High Heel have a Red Sole?
No type of high can have a red sole, and this goes for shoe companies. No company can produce shoes with red soles.
The red sole is not just a decorative element of the shoe; they are the exclusive trademark of the Christian Louboutin shoe.
Any company that attempts to use the red sole for its shoe may attract legal charges.
There was a case where Louboutin won the case to trademark the signature of its red-soled shoes, do click here to check out the news.
However, this is not to say that there are no counterfeit versions of the Louboutin shoe on the market. They are, and this is why you must know how to tell if a
Louboutin heel is authentic or not. This leads us to the last section.
How to Tell if a Louboutin Shoe is Authentic
1. Stitching
In an authentic Louboutin shoe, the stitching is perfect and consistent.
They are tight and even throughout the shoe. At the same time, the fake Louboutin shoe features double stitching and uneven stitches.
2. The Shoe Sole
In a genuine Christian Louboutin, the shoe sole is red, not just any type of red, but a bright red hue carefully finished with a classy gloss.
Also, the sole feature is the Christian Louboutin word inscribing together with the brand's logo, the lettering, "Made in Italy," and the European size engraved on it.
3. Price Tags
Authentic NEW Christian Louboutin heels generally are sold for retail prices between R 8 776 and 23 403. If you see any going for R500, just know it is fake.
4. The Box
The box is usually the first place to tell if a Louboutin shoe is authentic or not.
Louboutin shoe comes in a sturdy brown box with the Christian Louboutin logo inscribed on it, with the text 'Paris' written below on the bottom right corner.
Authentic Louboutin boxes feature a sticker with the style name, brand's logo, European size, and barcode. While the fake box does not contain such details.
However, you should know that a genuine box can have counterfeit shoes. So the box shouldn't be the only premises for you to conclude. Kindly pull out the shoe, and examine it.
5. The Dust Bag
Inside the Louboutin shoe box is a cherry red dust cover, typically one large or two smaller bags.
An original dust bag is made from high-quality material and is soft when felt. This dustbag features the crisp black brand's logo with the text 'Paris' situated on the bottom right.
Please note that the logo does not necessarily need to be centered and placed on the dustbag. The dust bag comes in the signature Louboutin cherry red color.
So the four things you need to examine on the dust bag are the color, font, spacing, and logo placement.
Conclusion
You must apply the correct maintenance tips on your Louboutin shoe to always make it look good and strengthen its durability.