The kind of footwear you wear for a concert depends on the nature of the concert and the genre of music the concert is promoting.
A concert comes in different forms. They are the country concert festival, hip hop concerts, pop concerts, and metal and rock concerts.
There are a lot of shoes you can wear to a concert, but
Can you wear heels to a concert?
Yes, you can wear heels to a concert if you are comfortable in them. However, the heel must not be too high; it should be 3 inches or below.
Heels to be worn for concerts should not go beyond 3 inches unless you are a performing artist or associated person who has mastered wearing very high heels.
Comfortability is a priority when dressing up for a concert. You want to be comfortable in what you wear and at the same time appear classic and beautiful. You can't dress anyhow to a concert.
Comfortable shoes are essential because you probably will be doing a lot of standing, walking, and dancing, and you can't do this by wearing something too high.
Shoes with good traction are excellent examples of shoes you can wear. The traction improves comfortability and makes you better relaxed when walking, standing, or dancing.
Also, it is one of the best shoes you should wear if you are scared of falling and breaking a tooth.
Some factors help to determine the kind of shoes you can wear for a concert. They are:
Is the concert an indoor or outdoor event?

For an outdoor concert, you must wear more protective and sturdier footwear. While for an indoor concert, the footwear can be opened and more air-frees.

The time of the year – is it summer, winter, or springtime? This influences your choice. For example, during the springtime, when there is the possibility of it raining, you will have to go for rain boots, and for summer, you will have to go for comfy shoes like open-toe sandals or kitten heels.
The nature of the concert

– is it a street jam concert, country concert festival, hip hop concert, pop concert, metal or rock concert. Each concert form has its peculiarities, which demand a different level of participation, influencing what to wear. For example, wear something super comfortable for a street concert, like sneakers.
Shoes you can wear to a concert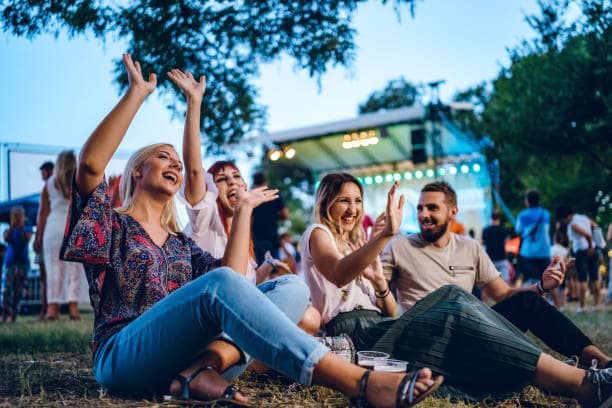 Block-Heel Ankle Boots
Block-heel ankle boots are classic sets of heels that aren't only fashionable but very cool and comfortable. They have a sturdy sole that is stable enough to protect your feet and support you throughout the night.
Also, the Block heel ankle boots are a great option if you love to wear heels. The Block heel ankle boots can be high, but not too high. However, stay away from suede block heel ankle boots for maximum comfort.
Rain boots
A rain boot is one of the most comfortable shoes to wear to a concert during the rainy season, especially if it is an outdoor concert. It mustn't rain that very day for you to wear rain boots.
As long as it has been raining, mud will be everywhere, especially if it is an outdoor event. You wouldn't want to dance and get slipped over in the mud.
So rain boots remain the best choice for such occasions. It isn't only comfortable but classy and comes in different colors and textures.
Low-Heel Ankle-Strap Sandals
You may not want your feet covered up in boots or sneakers during the warmer months. In this case, you can go for low-heel ankle strap sandals.
The ankle strap helps to provide additional stability, and the low heels make the sandals walkable and comfortable.
The low heels ankle strap sandal is fashionable and best for night indoor concerts.
One of the best low heel ankle strap sandals to go for is the Patent Leather Block Heel Ankle Strap Sandals
High-Top Sneakers
If the concert is more like a street kind of event or an outdoor concert, you will want to wear something more casual and comfortable to capture the streetwear fashion style.
You can go for high-top sneakers as it gives you a street fashion look while giving your feet optimum protection and comfort. This advantage is that you get more comfortable in them and can stand and dance all night without feeling pain in your feet.
To make your look effortlessly and beautiful while wearing high-top sneakers, you can tie the laces halfway up, allowing the top of the shoes to hang loose in the air. This goes perfectly when you are dressed in a high waist jeans pant paired with a nice crop sweater or cotton top.
Fancy Flats
Flats are very comfortable but may look too laid back for an event such as a concert. However, if you must wear a flat, I suggest you for something more embellished, metallic or strappy. One good example is the Hermione Glittered Leather Flats.
Flat Lace-Up Boots
If you want to achieve a fun look more comfortably, then the flat lace-up boots are here for you. This Moto-inspired shoe style is referred to as a celeb favorite. The advantage of this shoe is that it is designed for walking. So it is both fashionable and functional.
Platform Wedges
Platform wedges are trendy in the market. They are also a great option of shoes that you can wear to a concert as they help give you a boost without the shaky effect of heels. They can be best styled with crop jeans flare or a denim short and turtle neck top.
Slip-On Sneakers
Wearing slip-on sneakers is one of the effortless ways to achieve a casual-chick look. They go perfectly with a midi dress when standing at an outdoor summer concert.
Conclusion
If you must wear heels to a concert, they shouldn't be above 3 inches and not too pointy. Settle for platform or wedge heels. Stay away from high-heel pumps and stilettoes; they aren't very comfortable and unsuited for long hours of standing and dancing.