The church is a formal setting that requires worshippers to dress in the most decent form and style. Unlike other formal settings, the church doesn't necessarily have a strict uniform law concerning footwear.
Different denominations have laws relating to footwear, but all demand that it should be appropriate and not distracting or too flashy; hence, the question is, "is it appropriate to wear flip-flops to church?"
Is it appropriate to wear flip-flops to church?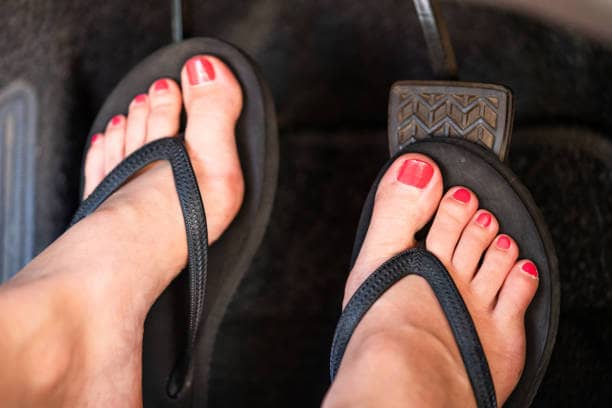 There is no straight no or yes. Depending on the church you attend and your status in the church, flip flop may be appropriate or not.
If you are a serving worker in the church and have a function to carry out in the service, wearing flip-flops may not be appropriate, but if you are just a sitting member, flip-flops might be suitable.
Flip-flops are super comfy and can be worn to church during the summer.
These days the dress code for most churches is becoming more casual. This is not to say that you can wear your weekend outfit with some set of trainers to church.
It is a relaxing rule that allows you to dress comfortably and come to church, as some might not be comfortable in formal wear.
If you must wear flip-flops to church, abstain from those that are too flashy and make sounds while walking with them. Go for darker shades and simple or classic-looking flip-flops.
However, you must consider factors before choosing footwear to wear to church.
Let's check them out.
Factors To Consider When Choosing a Footwear for Church
There are three factors you should consider when choosing footwear for church. They are:
Design
Go for shoes with minimal designs. You should understand that the church isn't a party center where you come to flaunt your most detailed shoes. They can be distracting. Stick to shoes with minimal details, shoes that are simple and classy.
Color
Go for colors that complement your outfit. Don't pick a green dress with red shoes. It is simply color conflict. Choose complementing colors. To be safer with colors, you can decide to stick to darker and neutral shades of shoes.
Darker shades of shoes –

Darker shades such as black, navy blue, or dark purple can go with basically any shade of outfit. In addition, they radiate elegance and class
Neutral shades of shoes

– You can go for a tan, taupe, or simple ash grey shoes. These shoes are versatile enough to go with any color or outfit.

Additionally, neutral shades of shoes have this excellent capacity to make your legs appear longer than they actually are. Brown is also a great color. It goes in a couple of colors. Also, white shoes are great as they make your leg appear attractive and relaxed.
Bright shades

– Bright colors attract too much attention and are considered too loud, which is inappropriate for church. Stay away from colors such as pepper red, bright yellow, sharp pink, and orange.
The comfort
Comfort is another potent factor you must consider when choosing footwear for the church.
The church requires some walking, standing, and squatting down to pray. If your shoe is not comfortable, it will be highly frustrating. To select comfortable shoes, there are two things you look out for.
Heel height – The height of your heel is a pointer to whether the heel will be comfortable or not. Pumps and stilettos above 3 inches tend to be less comfortable and, as such, not appropriate for the church; this is why you see many ladies wearing 4 or 5 inches pumps and heels and carrying flip-flops in their bag to change when they start becoming uncomfortable.
For the church, Kitten heels, low block heels, or wedge heels are considered appropriate because of their comfort.
Arch support – Arch support is another point indicator of comfort. It is essential for stability. Preventing your arches from collapsing, providing additional support and strength, and alleviating. Going for a shoe with arch support is an added advantage.
Types of Shoes That are Appropriate to Wear to Church
Below are some of the shoes that you can wear to the church.
Loafers
Loafers are one of the most comfortable and easy-to-wear shoes you can wear anytime to church. Anyone can era a loafer to church.
If you are a worker officiating during the service, a loafer is a good choice as it helps you walk around the church easily without discomfort.
Dress shoes
Dress shoes are special shoes that go perfectly with that beautiful dress on a Sunday morning. They are more classic and expensive than regular shoes.
Most times, ladies wear these shoes during special services in the church when they have to appear at their best.
Work shoes
These refer to the type of shoes that you wear to work. Generally, shoes that are appropriate to be worn to the office are considered suitable for church because the church is also a formal institution. So check out those work shoes, and choose the one that best fits your outfit.
Slide Sandals
Slide sandals, also called slip-on, is casual footwear that both men and women can wear. They are pretty versatile and come in a variety of shades and designs.
You can pair them up with a dress, pants or skirts. You can wear it to church when you need to appear casual and fun.
Wedges
Wedge is my summer favorite and great for church, especially when styled with a flowy dress. Unlike stilettos, wedges are super comfortable and ensure your feet are balanced.
You don't have to be afraid of slipping off the smooth tides of the church or your heels getting stuck on the carpet grasses around the church.
Slingbacks
Slingbacks are one of the most sought-after sandals today. They come in different heel lengths and are generally accepted to be appropriate for formal settings, including the church.
Low kitten heel slingbacks are more comfortable than high heels slingbacks. You can consider pairing your low kitten heel slingback with a cocktail dress for s classic look on Sunday.
Peep toe sandals
Peep toe sandals are mostly heeled, which makes quite a beautiful shoe when paired with a nice outfit.
Dress sandals
Dress sandals usually feature a low heel that is practical to be worn to church. They can go perfectly with a dress or skirt and don't really go well with wide-legged pants.
Closed-toe sandals
Looking for a more conservative shoe for church? You can go with the closed-toe sandals. The closed-toe sandals help to cover your toes, making them less distracting.
Also, it protects your toes from being trodden on, especially when you attend a megachurch where the entry path is usually crowded.
Flat sandals
If you want something simple, you can go for a flat sandals. There is a thin line between flat sandals and bare sandals.
The former is accepted in formal settings and the church, while the latter is too casual to be worn to the church.
Mules
Mules come in two forms: flats and heeled. Flat mules are great for casual events and settings, while heeled mules are best for any formal setting, including the church.
You can try styling a pair of heeled mules with a wide-leg palazzo or a flare dress or skirt for an elegant look.
Booties
Booties come in different forms. There are heeled boots, ankle boots, knee-high boots, thigh-high boots, combat boots, Chelsea boots, and so on. Not all types of booties are appropriate for the church.
The three types of booties that you can wear to church are ankle, heeled, and Chelsea boots. Boots are versatile, and they can be paired to fit different forms of outfits.
T-strap sandals
T-strap sandals are beautiful sets of sandals known for their flattering cut and illusorily elongating abilities, making them appear great when paired with a maxi dress for Sunday service.
Low heel pumps
Pumps are fashionable shoes that make you appear elegant when you pair them properly with the right outfit.
Pumps can either be high heels or low heels. For comfort and ease, wear low-heel pumps when choosing pumps for church.
What Types of Shoes Are Inappropriate to Wear to Church
 

Sneakers
Sneakers are athletic shoes that are too casual. They are not fit to be worn to the church. Leave sneakers for casual dates and parties. However, you can wear sneakers to weekly Sunday services like Bible study.
Crossed leather slides
Crossed leather slides are sandals that have a leather crossband upper. They are inappropriate for formal settings such as the church. Crossed leather slides are perfect to be worn for poolside parties or nightlife backyard barbeque parties.
Striped beach slides
Striped beach slides are sandals that are typically made of a rubber-like material. Even though they are super comfortable, they are too casual and limited to be worn only at home.
Furry slides
Furry slides are usually worn in the house. However, you can wear it out to casual events around the neighborhood. They are very casual and may not be accepted in some churches. However, if you can pair it up with a nice outfit, you can wear it to church, possibly on Wednesday bible study.
 

Gladiator sandals
Gladiator sandals are the special types of sandals that feature multiple tied around the feet, reminiscent of the Roman gladiators. They are not fit to be worn to church because they are too showy and stylish. They are best kept for casual events.
Lace-up sandals
Lace-up sandals come in different forms. They may be too casual for some church functions, whether laced up to the ankle or thigh. However, if you must wear a lace-up sandal to the church, you have to go for the one that the lace-up isn't beyond the ankle.
 

Stilettos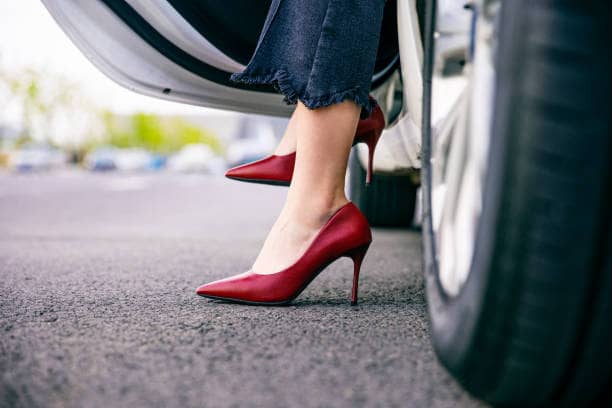 Stilettos are elegant shoes that are great for top-tier vents and parties. They are very stylish and showy and not too comfortable to be worn to the church. You can easily slip off the ground, especially if the ground is very smooth when on stilettos.
Athlete Shoes
Athletic shoes such as hiking boots, trail running shoes, cross trainers, tennis shoes, and so many others are inappropriate to wear to church. They are sporty and casual and not fit for a formal setting.
FAQS
Are Knee–High Boots Appropriate for Church?
Yes, knee-high boots are appropriate for the church as long as you are not wearing them with a mini skirt or dress. Girls can pair them up with nice dresses on a Sunday morning.
Can You Wear Open-toe shoes to church?
Yes, you can wear open-toe shoes to church. All you have to do is to style it appropriately and ensure it complements your outfits. Also, wear darker and nude shades when picking a pair of open-toe shoes.
Can you wear sandals in the Catholic Church?
Although wearing sandals is not considered wrong in the Catholic Church, it is rather inappropriate to wear a sandal when conducting activities in mass.
Go for more conservative shoes if you are performing an activity in the mass.
Can You Wear High Heels to Church?
You can wear high heels to church as long as it is below 3 inches. Anything more than that is considered not comfortable for you to wear to church. High heels like pumps do great when styled with pencil skirts and a full-body suit.
Conclusion
Although the church's dress code is not very strict, you should remember that the church is a formal setting, and formality and decency should be upheld.
The simple rule of thumb states that anything you can wear to your workplace can be worn to the church.
It isn't bad to wear flip-flops to church, but ensure you go for elegant-looking flip-flops. Don't just wear any shoes to church.
Before you choose any shoe for church, consider the three factors: comfort, design, and color.